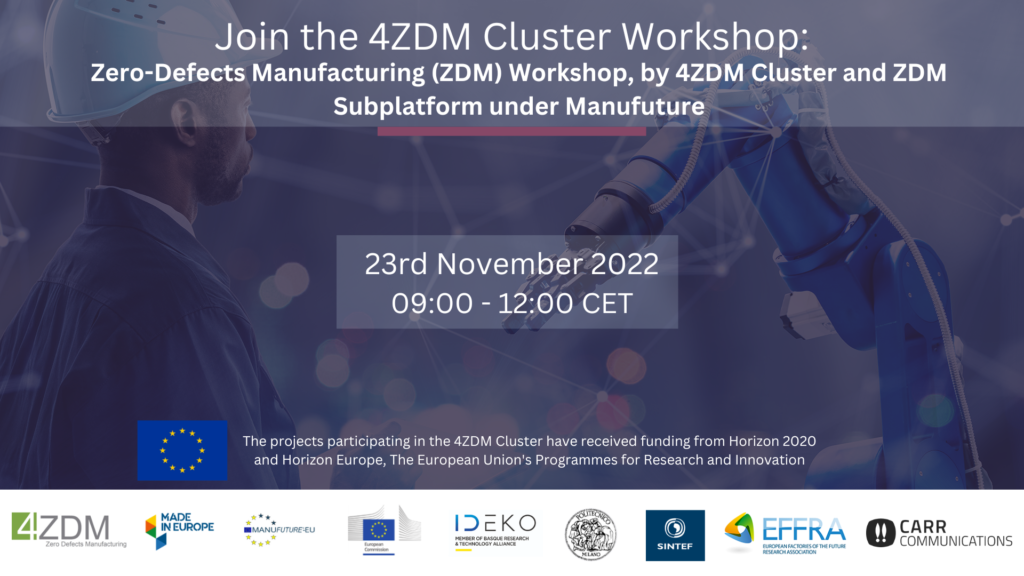 The Zero-Defect Manufacturing (ZDM) workshop co-organised by IDEKO, SINTEF, Politecnico di Milano and Carr Communications took place in Brussels, Belgium on 23 November 2022.
The objectives of the workshop were:
Quick update of running ZDM projects around digital transformation (digital platforms, AI, data analytics, blockchain) and new ZDM projects around green transformation (zero waste, circularity).
Initial interaction among running clusters (predictive maintenance, AI for manufacturing)
Open discussion on ZDM opportunities at 2nd part of HE (2025-2027) and beyond HE.
The event ran from 9.00 to 12:15 CET at the Bluepoint building, Bd Auguste Reyers 80, Brussels, and there was also a remote connection link for those unable to attend in person.
AGENDA:
#
Time slot (CET)
Description
Speaker
0
9.00-9.15
Welcome and reception
4ZDM cluster representatives
1
9.15-9.30
Introductory words from EC and EFFRA
EC, EFFRA representatives
2
9.30-9.45
4ZDM Cluster status (workshop rationale and objectives, setting the scene, ZDM projects & waves)
Juanan Arrieta (Ideko)
3
9.45-10.45
Introduction of new ZDM/ZW selected projects, under 6th wave (HE-CL4-2021-TT-01-02):
ZDZW
Open ZDM
FLASH-COMP
Platform-ZERO (online)
TURBO (online)
ENGINE
Running projects and Q&A
10min sharp per project

Oscar Salgado (IKERLAN)
Kosmas Alexopoulos (LMS)
Aitor García (LORTEK)
Victor Izquierdo (IREC)
Julio Silva (UPV)
Andris Freimanis (VTT)
All
4
10.45-11.00
Interaction with other running clusters: FORESEE, AI4Manufacturing (online)
Kosmas Alexopoulos (LMS)
John Soldatos (INTRASOFT)
5
11.00-11.15
Short pause / coffee break
All
6
11.15-11.25
ZDM roadmap in progress under DAT4ZERO
Odd Myklebust (SINTEF)Marcello Colledani (POLIMI)
7
11.25-12.10
Plenary open discussion/panel: Evolution of ZDM within twin transition (digital/green) Framework of DTI concept (decentralized/distributed technical intelligence)ZDM opportunities within WP2023-24, within the new HE Strategic Plan 2025-27 (basis for WP2025-27) and beyond HE)
Moderator: Linda Henriksson (Carr Communications)
Odd Myklebust (SINTEF)
Marcello Colledani (POLIMI)
Juanan Arrieta (IDEKO) Participation of the audience is encouraged!
8
12.10-12.15
Wrap-up and conclusions
4ZDM cluster representatives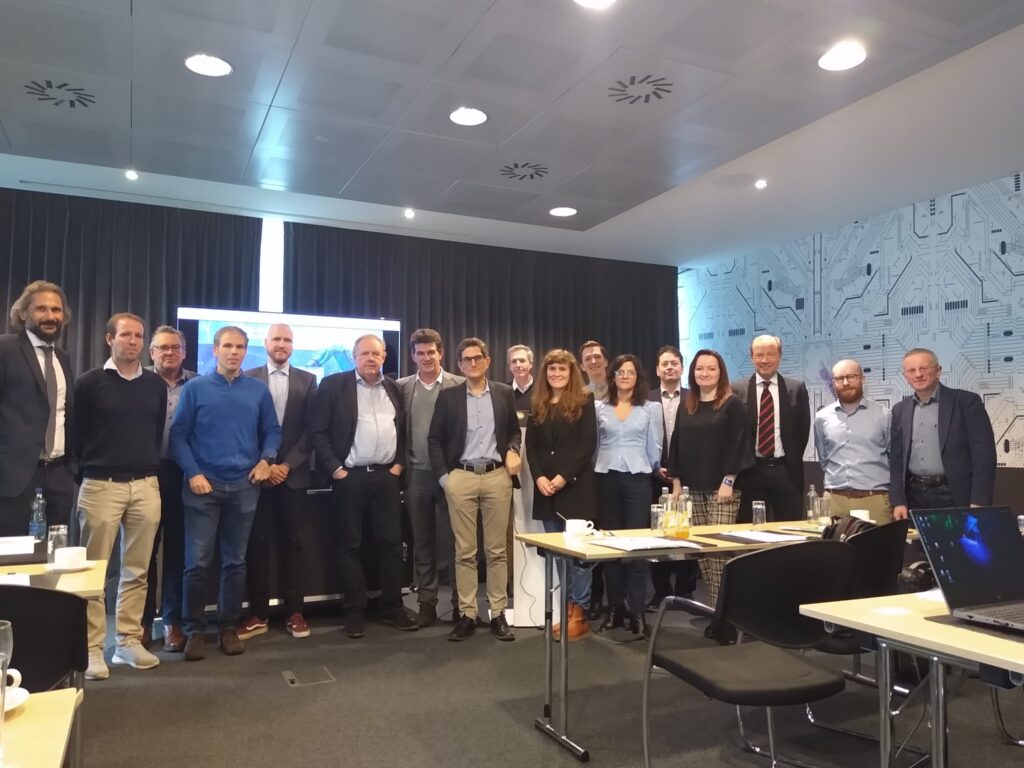 Presentations